Most Anticipated Releases of 2018
2017 has been an amazing year for books. With some amazing debut novel and some new finds for me, I have read some of my favourite books this year that have made me laugh, cry, spiked my intrigue and have been all around amazing. So I really hope that 2018 holds the same potential! I have put together five books that are coming out next year and that I am really excited and interested in reading and will most probably be preordering as soon as I can.
Children of Blood and Bone by Tomi Adeyemi
March 2018


— Kizzi May (@Kizzimay) December 15, 2017

Zélie Adebola remembers when the soil of Orïsha hummed with magic. Burners ignited flames, Tiders beckoned waves, and Zélie's Reaper mother summoned forth souls.
But everything changed the night magic disappeared. Under the orders of a ruthless king, maji were targeted and killed, leaving Zélie without a mother and her people without hope.
New, Zélie has one chance to bring back magic and strike against the monarchy. With the help of a rogue princess, Zélie must outwit and outrun the crown prince, who is hell-bent on eradicating magic for good.
Danger lurks in Orïsha, where snow leoponaires prowl and vengeful spirits wait in the waters. Yet the greatest danger may be Zélie herself as she struggles to control her powers - and her growing feelings for the enemy.
Goodreads
My English teacher sent me an article about Tomi Adeymeni's debut novel, Children of Blood and Bone and it sounds amazing. I love books based on mythology as their stories are so interesting but West African mythology is not somthing that I have read very much about or seen a lot in literature so I am really excited to read about somthing new. Tomi Adeyemi also sounds amazing. I have linked the article above as I don't think I can do her much justice but she sounds like an empowering and inspirational women who does not let herself be pushed around and stands up for what she believes in. I also agree with her that YA literature has the power to make a difference to society and change the way people think, hopefully for the better.


April 2018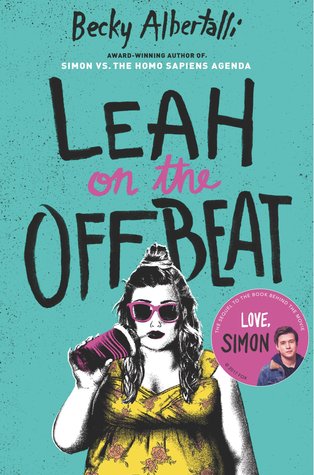 When it comes to drumming, Leah Burke is usually on beat - but real life isn't always so rhythmic. An anomaly in her friend group, she's the only child of a young, single mom, and her life is decidedly less privileged. She loves to draw but is too self-consious to show it. And even though her mom knows she's bisexual, she hasn't mustered the courage to tell her friends - no even her openly gay BFF, Simon.
So Leah really doesn't know what to do when her rock-solid friend group starts to fracture in unexpected ways. With prom and college on the horizon, tensions are running high. It's hard for Leah to strike the right note while the people she loves are fighting - especially when she realizes she might love one of them more than she ever intended.
Goodreads
I am so excited for this one.
Becki Albertall
i is one of my favourite YA contemporary authors and
Simon vs the Homo Sapiens Agenda
was one of my favourite books that I have read this year. So when I found out she was realising another book, I was excited. When I found out she was realising another book about Leah from
Simon vs the Homo Sapiens Agenda,
I was ecstatic. I mentioned in my review of
Becki Albertalli's The Upside of Unrequited
that I love it when you get a sneak peak into how characters are doing from other books so for me this is a dream come true. I was planning to re-read
Simon vs the Homo Sapiens Agenda
soon but I think I will hold off until April now so that the characters are fresh in my mind, ready to dive into this and fall in love, once again, with Becki Albertalli's characters.
War Storm by Victoria Aveyard
May 2018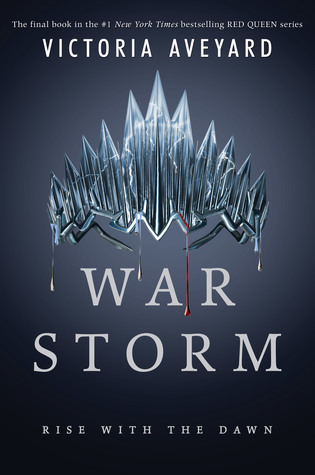 VICTORY COMES AT A PRICE
Mare Barrow learned this all too well when Cal's betrayal nearly destroyed her. Now determined to protect her heart - and secure freedom for Reds and newbloods like her - Mare resolves to overthrow the kingdom of Norta once and for all... starting with the crown on Maven's head.
But no battle is won alone, and before the Reds may rise as one, Mare must side with the boy who broke her heart in order to defeat the boy who almost broke her. Cals powerful Silver allies, alongside Mare and the Scarlet Guard, rove a formidable force. But Maven is driven by an obsession so deep, he will stop at nothing to have Mare as his own again, even if it means demolishing everything - and everyone - in his path.
War is coming, and all Mare has fought for hangs in the balance. Will victory be enough to topple the silver kingdoms? Or will the little lightening girl be forever silenced?
In the epic conclusion to Victoria Aveyard's stunning series, Mare must embrace her fate and summon all her power.. for all will be tested, but not all will survive.
Goodreads
So it is not unknown that I absolutely love the
Red Queen series
. It was the first proper fantasy series that I read and it is was fueled my interest in the genre, which now happens to be my most read genre this year. A lot of people say that it is like a lot of other fantasies but I really don't see it - all fantasies are similar in some way or another aren't they? I powered through the first three books in this series at the beginning of the year and some of the facts are a bit fuzzy now so I will definitely be re-reading it all before I get onto this one. It comes out in the middle of my exams so I will have to wait until they are finished to get onto it but that will just give me more incentive to get all my work done!
Legendary by Stephanie Garber
May 2018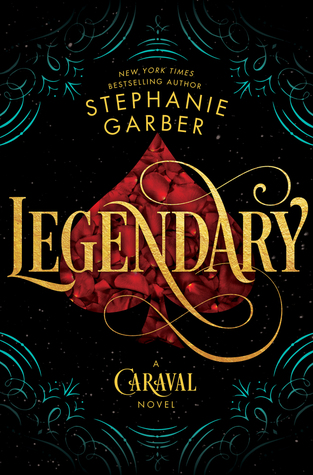 Stephanie Garber's limitless imagination takes flight once more in the colourful, mesmerizing, and immersive sequel to the bestselling and breakout debut Caraval, following Scarlett's younger sister, Tella, on a journey to the empire's capital to fulfill a mysterious bargain.
I read Caraval when it was first released and gave it three stars so I am really interested to see how it evolves in the next book. Whilst Tella was a key part of the plot of Caraval, she wasn't part of the actual story as she went missing so obviously, wasn't actually there... So I think it will be really interesting to find out more about her as she seemed like a fun character. The descripti9on doesn't give too much away so I don't really know what it is about which is exciting as I like going into a book not knowing too much about it.
What If It's Us? by Becki Albertalli and Adam Silvera
Fall 2018
— Kizzi May (@Kizzimay) December 16, 2017
What If It's Us
opens as Arther and Ben meet as the post office as Ben is shipping his ex-boyfriend's things back to him. They subsequently endure the frustration of knowing there was a missed connection, before the universe pushes them back together again in a series of failed "first" dates.
Goodreads
So I only found out that
Beck Albertalli
and
Adam Silvera
where co-writing a book the other day and I cannot believe that I didn't know about it sooner. I have only read one of Adam Silvera's books,
History is All You Left Me,
which I gave three stars and I really want to read some of his other books so this match sounds incredible. I can see how the two authors fit together and their story of how they became friends and came up with the idea of the book is great. Becki Albertalli writes her parts from the perspective of Arther, and Adam Silver from the point of view of Ben, which is a really great way of getting the two different voices across. I really can't wait to see how this comes together, in a hopefully heartwarming, if not with some slightly sad moments as it is Adam Silvera, book that I will love.
* * * *
So those are the top releases that I have seen and am desperate to read! But as always, I am always wanted to add more to my TBR list so if you have seen anything that you think looks amazing coming out next year, make sure to mention it down in the comments below!